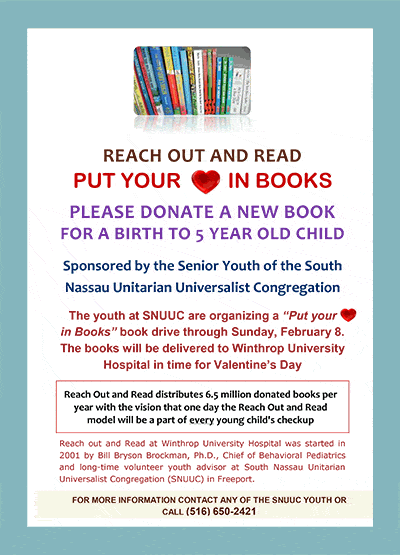 ""While I relish our warm months, winter forms our character and brings out our best"
- Tom Allen
The cold weather certainly will not dampen the enthusiasm and commitment of our religious education program as our new semester of classes commences on February 1. There is new energy in the RE Wing with changes to the teaching rotation for the Winter/Spring semester. New teachers Rita Hines, Steven Corina, Sharon Kennelty-Cohen and Phil Kennelty-Cohen will be working with our youth this semester along with our returning teachers from last semester- Jim Hawkins, Ilene Corina and Harriet Arnold. Bob Granoff will continue to offer 'Snack Daddy' services and Rosemary Olander, Selina Benson and John Bilello will continue to step in as needed to serve as substitute teachers.
Special thanks to our teachers who are rotating off the teaching schedule, Brian Larkin and Bill Bryson- Brockmann, for their dedicated work in the RE Wing this past semester. And we are especially thankful for the time and energy that Diane Hawkins gave to the RE Wing this past semester, working with our Senior Youth on the art exhibit currently on display.
Themes for the program this semester are: Stories from the Bible curriculum for our youngest class, Unitarian Universalism and Girl Scouts for our Junior Youth program and a Social Action/World Events curriculum for our Senior Youth. Special events planned so far is a Senior Youth Bake Sale to raise funds for homeless initiatives, a Social Action Sunday to support the Smile in a Bag foundation on February 22, World Water Day activity on March 22, a Midnight Run to New York City on March 27, an Intergenerational Luncheon on April 12 and Earth Day themed activities on April 19. Our annual Bridging Ceremony/Coming of Age Recognition Service is scheduled for June 14.
Look for our youth to be more visible in the Sanctuary this semester as we look to bring the good work done by the children and youth to the rest of the congregation.
So, if you have not been involved with our RE program lately, or you are interested in volunteering in the program, please come see us in the RE Wing. The cold weather is not affecting us at all.
Put Your ♥ in Books
Reach Out and Read for Winthrop Hospital
The Senior Youth are sponsoring a book drive for Reach Out and Read, a program where pediatricians stress the importance of reading to children and give a new book to all birth through 5-year-old children who come in for a check-up. Please donate a new book appropriate for a birth to 5-year-old child, by Sunday, February 8. There is a box in the RE wing for your donations. Books will be delivered to the hospital in time for Valentine's Day. For more information contact any of the Senior Youth.
Midnight Run - Senior Youth
are now collecting donations for their 2nd Midnight Run this year on March 27.
The Midnight Run www.midnightrun.org is a volunteer organization dedicated to finding common ground between the housed and the homeless. Volunteers distribute food, clothing, blankets and personal care items to the homeless poor on the streets of New York City. The late-night relief efforts create a forum for trust, sharing, understanding and affection. That human exchange, rather than the exchange of goods, is the essence of the Midnight Run mission.
Please come to a meeting on February 15 to learn what we need and how you can help. There is a variety of products needed such as soft cookies, juice boxes, bread for sandwiches and bags to pack them.
Can you donate 10 travel-sized toothpaste, shampoos or soap? Toothbrushes, razors and travel-sized shaving cream are all helpful to people who live on the streets of NYC. We can also use new and gently used Large and XL sweatshirts, t-shirts, men's sweaters, socks and clean blankets.
Donations need to be in the SNUUC RE wing by March 22. Participants must register by February 15. See Ilene Corina for more information.

Social Action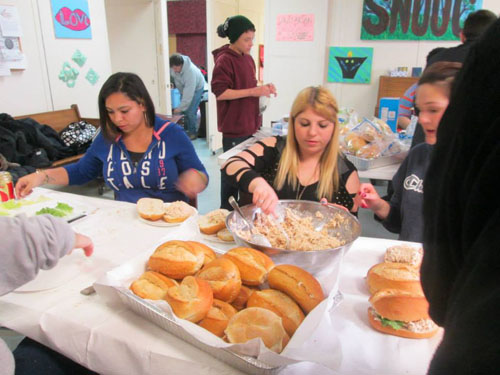 Social Action is a big part of the RE Wing this semester. After several months of planning, fund raising and organizational meetings, a Midnight Run to benefit the homeless in New York City took place on Friday March 14. The RE Wing was abuzz with activity on the night of the run with volunteers sorting clothing, assembling toiletry bags, preparing hot food items and making sandwiches and care packages to give out at various stops across Manhattan. Cars were loaded up with the various items and we were ready to proceed.
Our caravan left SNUUC at 9:00pm and we made our first stop near the Midtown Tunnel at 10:00pm. At each stop, car trunks were opened and items distributed to all who were in need. Our youth were happy to be engaging with the recipients of these items and this was repeated a half dozen times that evening. We gathered back at SNUUC at 2:00am and unpacked what was left over, which was donated to the INN at Freeport and the SNUUC Thrift Shop. We shared our thoughts together before heading home, knowing that the good we do is its own reward and that is enough.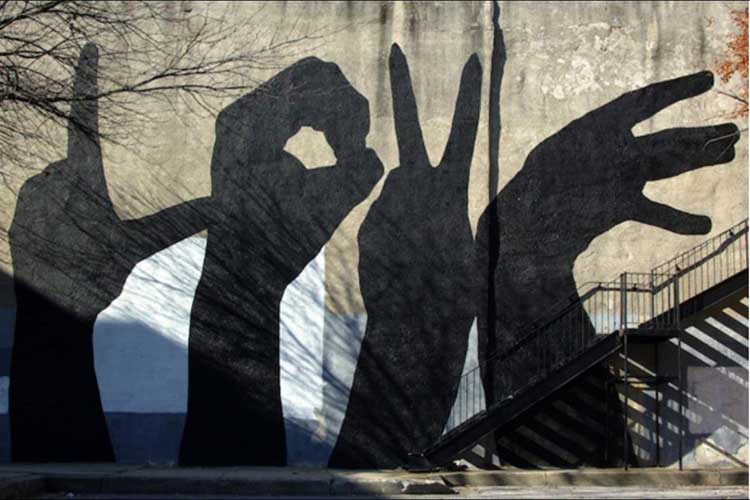 UU Youth Programs on Long Island

Student Activity Fund
The Student Activity Fund (SAF) is a program to encourage young Unitarian Universalists to live their religious values through internships in social action, advocacy and service provision.
SAF is a grant-program funded by the Unitarian Universalist Veatch Program at Shelter Rock that enables high school seniors and college students to perform significant service to the community while earning money to help finance their education.
Our Whole Lives
Our Whole Lives (OWL) is a series of grade appropriate courses in sexuality education. The program provides accurate information and Unitarian Universalist values for children, youth, adults, and families.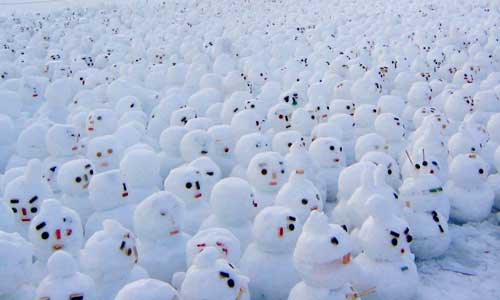 Angry crowd protests global warming!
The Coming of Age Program
The Coming of Age (COA) Program is about learning, sharing, growing and bonding with other Unitarian Universalist youth from various Long Island congregations. The purpose of the program is to acquaint the participants with an understanding of Unitarian Universalism, explore their developing personal religious philosophies, examine and discuss adolescent issues and to foster the development of open communication among the youth and between the youth and their families.
Sophia Fahs U.U. Camp
Sophia Fahs provides enjoyable, practical and spiritual experiences in a safe, beautiful and natural environment that will inspire children, youth and adults to explore their identities: personal, communal and Unitarian Universalist.