Come visit!
We welcome you and your family, whatever your religious background,
ethnicity, color, sexual orientation, gender expression, family structure,
income, or abilities may be.
Please join us!


Click here to read our RE's column in this month's newsletter

Welcome to the 2015-2016 Religious Education program at
South Nassau UU Congregation!
We're looking forward to an exciting second year of interim work exploring the overarching theme of Metamorphosis. Metamorphosis is the changing of one state to another. And it just seemed like a perfect fit for the South Nassau UU Congregation (fondly known as SNUUC) to explore this year.
Additionally, we're adopting a whole congregation themed approach to our programming. Whole congregation themed programming is a powerful way to focus the life of a congregation on monthly themes through worship, religious education, small groups and other activities.
Theme based ministry, sometimes called theme-based church, helps create multigenerational connections, as people of all ages explore common themes in age-appropriate ways. And theme based ministry extends faith development beyond Sunday morning. Families can continue the conversation in the car ride home or over the dinner table; small groups that meet during the week can go deeper with the theme throughout the month.
Here's the line up of this year's themes:
September 2015: Metamorphosis!
October 2015: Promise/Growth/Renewal
November 2015: Surrender/Grace
December 2015: Awe/Praise
January 2016: Death/Adaptation
February 2016: Vulnerability/Salvation
March 2016: Possibility/Resilience
April 2016: Awakening
May 2016: Emergence
June 2016: Freedom/Celebration
We hope that you will join us in what will be an exciting year full of energy, spirit and METAMORPHOSIS!
Click here to register your child today!


♦ realize that they are moral agents, capable of making a difference
in the lives of others, and in the health of our planet.
♦ feel safe & free to form their own answers to life's great religious questions. ♦ become familiar with, and show respect for, history and wisdom of other religious traditions.
♦ recognize the importance of community, the importance of families of all
kinds, the importance of relationships among generations.
♦ experience joy, awe, and gratitude in response to life's gifts...and find hope
and healing in the face of life's challenges.
♦ appreciate the religious heritage of Unitarian Universalism, and feel at home
and among friends in this faith community.
Building an Age Appropriate Curriculum
This year, we at the South Nassau Unitarian Universalist Congregation will be studying the many aspects of change. This study will take place amongst the adults led by our part-time Transition Minister Laurie Stuart, as well as our wonderful cast of guest ministers. In the RE program, we, too, will use this metaphor as we explore our spiritual nature and how to live our values in the world and in our family relationships.
One Sunday a month has been designated as a Whole Congregation Celebration and children and youth will remain in the Sanctuary with the adults. These services have been planned as inclusive worship experiences for all congregants.
On those Sundays that are designated as RE Sundays, all youth will be met in the Religious Education Wing at 10:15 a.m., enabling their parents and caretakers to respond to the call to worship on time. Children and youth will begin together in a Caring/ Sharing Circle where we will light our chalice, sing a song or two, celebrate the opportunities we have had to practice UU principles and make our own offering. We will then break into our age appropriate groups until 11:30 a.m. when the children will join us for a slightly re-imagined coffee hour that will include juice and cookies.
Here are more detailed descriptions of the individual programs:
FIRST CONGREGANTS: Our youngest group of children are grouped as Pre-K to second graders. This year, we will be working on learning the Seven Principles of Unitarian Universalists and how we can practice them in our lives every day. We will use story, song and crafts to help the children understand their own spiritual emotions and begin to answer life's big questions. They will participate in monthly themes at their own developmental level.
MIDDLE CONGREGANTS: This group of third to seventh graders will be using a fabulous UU cur- riculum called Neighboring Faiths. In addition to practicing the principles of our faith, the children will learn about the many ways in which friends and neighbors answer great spiritual questions. We will ask some of those friends and neighbors to share their experience of how their faith nourishes them and how different faiths might approach our overarching theme of metamorphosis as well as our exciting monthly themes.
EMERGING CONGREGANTS: This group of eighth to 12th graders will undertake a Life Journey through another UU text of that name that explores how we grow and change throughout our lives and how to make the journey most meaningful. In this year of metamorphosis, this is a particularly apt curriculum and will enable our youths to engage with the entire congregation as they explore the challenges and joys inherent in each stage of life.
Parental Responsibilities and a Covenant Between Us
Our RE ministry is a cooperative of parents who make common commitments for the mutual benefit of all children and youth. These include:
♦ Striving for consistent attendance, which demonstrates that the congregation and faith are important. Building trust and friendship nurtures our common life.
♦ Showing our commitment to South Nassau UU Congregation by making a financial pledge for the year.
♦ Staying informed by reading the Open Line, the Wednesday eblast and emails from the RE program.
♦ Working out a schedule to volunteer in the program (average of 2 hours a month is requested).
This is essential to our program, and we thank you. We know how busy all parents are!
♦ Remaining in the building while the children are in educational programming and picking them up when the program time has ended.
♦ Providing timely feedback (both positive and constructive) in order to help assess and improve the program.
♦ Offering each other mutual support and encouragement as we strive to live within the covenants of SNUUC and move as UU parents toward spiritual growth in our homes.
Unitarian Universalist Principles
We are a covenantal faith community with NO creed to which members must subscribe.
We convenant, however, to affirm and promote the following principles:
♦ The inherent worth and dignity of every person;
♦ Justice, equity, and compassion in human relations;
♦ Acceptance of and encouragement for one another as we work toward spiritual growth in our congregations;
♦ A free and responsible search for truth and meaning;
♦ The right to apply conscience and the use of the democratic process within our congregations and in society;
♦ The goal of world community with peace, liberty, and justice for all;
♦ Respect for the interdependent web of all existence, of which we are a part.
Sources of the Living Tradition
In pursuit of these principles, we draw wisdom from the continuously revealed sources named below:
♦ Direct experience of that transcending mystery and wonder, affirmed in all cultures, which moves us to a renewal of the spirit and an openness to the forces which create and upholdlife;
♦ Words and deeds of prophetic women and men. These challenge us to confront powers and structures of evil with justice, compassion, and the transforming power of love;
♦ Inspired wisdom from the world's religions which helps guide us in our ethical and spiritual lives;
♦ Jewish and Christian teachings which call us to respond to God's love by loving our neighbors as ourselves;
♦ Humanist teachings which counsel us to heed the guidance of reason and the results of science, and warn us against idolatries of the mind and spirit;
♦ Spiritual teachings of earth-centered traditions which celebrate the sacred circle of life and instruct us to live in harmony with the rhythms of nature.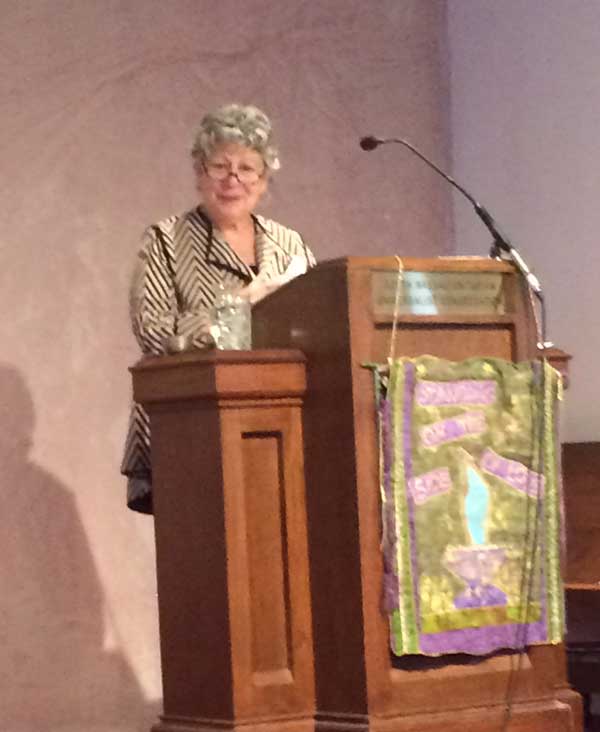 Measure your health by your sympathy with...spring. If there is no awakening to nature...if the warble of the first bluebird does not thrill you… the spring of your life is past. Henry David Thoreau
Our theme for April is Awakening and the earth's
awakening in Spring is a time that engages all our senses and often makes us feel more alive and connected to the cycle of our year. We are, as Thoreau suggests, thrilled not only with the sound of the bluebird's warble and the feel of the warm air or soft rain against our skin but with the sight and smells of the budding plants and trees. Why then, you might wonder, have I chosen this month to talk about children and sleep.
It began back in mid March when we used our clock to "Spring Forward," and add an hour of daylight to our afternoons. Although many in the congregation arrived a bit late that first Sunday, I'm sure that by Monday morning they had adjusted and were thrilled to have an afternoon commute with some sun. Our children were, I'm sure, also happy to be out on the field in the afternoon kicking a soccer ball, throwing a baseball or planting some seeds but, all week students are more tired, irritable and less able to focus on the task at hand. It doesn't last long. By the following week, they too have adjusted but it did make me think about how important instilling healthy sleep habits are for children and youth. Sleep is vital for learning and memory and lack of sleep impacts our children's health, safety and even longevity. For younger children it is primarily about developing a regular sleep schedule that should be maintained on weekends and vacations. Paired with a consistent bedtime routine that includes some one time with a loved one, engaged in a calming activity, will help to make bedtime a pleasant ritual.
But sleep patterns change as children grow. After puberty, there is a biological shift in an adolescent's internal clock of about 2 hours, meaning that a teenager who used to fall asleep at 9 pm will now not be able to fall asleep until 11pm. It also means waking 2 hours later in the morning. This is biological and according to the National Sleep Foundation, " based on current data we think that most teens need on the order of 9 plus hours nightly to have optimal sleep. "
That would mean that they should wake up at about 8 am. As most of them are in school by that hour, what's a parent to do? Here are the recommendations from the National Sleep Foundation.
Maintain a regular sleep schedule. Your teenager should go to bed and wake up at about the same time each day. That includes weekends. An early afternoon catnap of 15 or 20 minutes can be helpful. Turn off televisions, computers, and radios. Avoid caffeine, smoking, alcohol, and drugs. All of these cause sleep problems. These suggestions may help you and your teens get through the "vampire years," and start your children off to good sleep habits.
Preview of Coming Attractions with RE
See Harriet Arnold for details on these exciting upcoming events:
April 30: 5:30 pm Festival of Freedom The SNUUC Family Seder
May 1: Junior Youth Celebration of Margaret Sutton
May 21: Met Game Faith Day at CitiField

Harriet Arnold, RE Coordinator