Come visit!
We welcome you and your family, whatever your religious background,
ethnicity, color, sexual orientation, gender expression, family structure,
income, or abilities may be.
Please join us!
• Sunday Sept 7 Welcome Back Water Communion Service
• Friday Sept 12 RE Sign Up/Teacher Orientation
• Saturday Sept 13 Games Night/Pizza Party at SNUUC
• Sunday Sept 14 RE Classes begin
• Sunday Sept 21 Congregational Open House

Weekly updates on RE activities can be found on the weekly email by clicking here.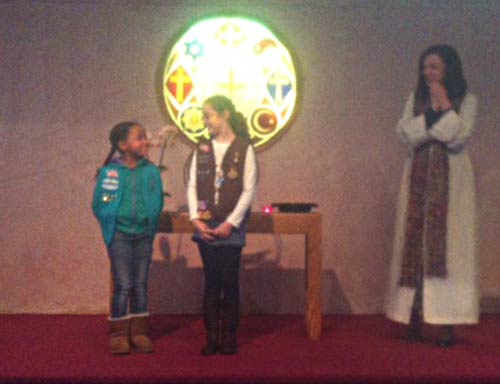 ...know that they are lovable beings of inherent worth and dignity.
...realize that they are moral agents, capable of making a difference
in the lives of others, and in the health of our planet.
...feel safe & free to form their own answers to life's great religious questions (such as the nature or existence of a deity...what happens when we die...and the purpose of life itself).
...become familiar with, and show respect for, history and wisdom of other religious traditions.
...recognize the importance of community, the importance of families of all kinds, the importance of relationships among generations.
...experience joy, awe, and gratitude in response to life's gifts...and find hope and healing in the face of life's challenges.
...appreciate the religious heritage of Unitarian Universalism, and feel at home and among friends in this faith community.
Our Winter/Spring RE semester began on February 2 and our Junior and Senior HS classes will be learning more about world religions in the next few months during their religious education classes.
Unitarian Universalism recognizes the value of many sources for our beliefs. We believe that wisdom from the world's religions inspires us in our ethical and spiritual life. In our religious education program at SNUUC, we teach our kids about various traditions which will allow them the freedom to find their own spiritual and religious paths. We honor different religious holidays because we draw from different religions for meaning. We give our youth the resources to find meaning and make wise, ethical decisions throughout their lives.
There are 21 major religions in the world and we will be exploring the traditions and beliefs of many of them. We will also be having guest speakers and planned visits to local mosques, churches and temples to experience personally how these services are different that UU services. And what we can learn from them.
We will be studying various religious texts and hearing faith based stories to learn stories about compassion, loving-kindness, forgiveness, perseverance, non-attachment and social action from other faiths that can be incorporated into our spiritual lives.
I look forward to working with our youth on their religious exploration journey.
David Silver, Director of Religious Education
What's the typical morning schedule?
10:30 - Everyone begins the morning in the Sanctuary together. After the first ten to fifteen minutes, children & youth and their teachers go to the RE Wing. Around 11:30, the service in the Sanctuary ends. At 11:45, RE ends and children are dismissed to parents.
What else can you tell me about the curricula you use?

"No act of kindness,
no matter how small,
is ever wasted."

- Aesop (620 BC - 560 BC)
'The Lion and the Mouse'
Copies of our curricula are available for your review on the shelves outside the DRE's office. This year, some of the curricula we're using are the same as those used by our sister UU congregation at Shelter Rock. In coming years, we'll also be using curricula from the "Tapestry of Faith" online series, viewable at www.uua.org/religiouseducation/curricula/.
May I stay with my child?
Sure—if you'd like to observe or help ease a transition, just let us know. Do you provide child care? Yes, child care is available for the very young (infants to preschoolers).
How do I enroll my child?

Complete a registration form (available outside the RE Director's office or click here for registration).
I have been to the end of the earth.
I have been to the end of the waters.
I have been to the end of the sky.
I have been to the end of the mountains.
I have found none that were not my friends.

- Native American Prayer Song
Is there a fee?

No.Nut you will need to fill out a registration form to provide relevant medical/allergy information.
How can I help?
Volunteer opportunities are listed on the back of the registration form. Each enrollee's family is expected to contribute time, talent, and enthusiasm, as this is a cooperative program. The program's success depends on volunteers like you.
Is there RE during the summer?

We find delight in the beauty and happiness
of children that makes the heart too big
for the body

- Ralph Waldo Emerson
No, but there are summer camp opportunities for children & youth, such as Sophia Fahs UU RE Camp (on Shelter Island), run by the Long Island Area Council, for children & youth entering grades 3-12; UU Mid-Atlantic Community (held at DeSales University in PA)—a camp for all ages; and Unirondack (in the Adirondacks).
How can I find out more?
Contact our RE Director, David Silver at dre@snuuc.org.