South Ocean Gallery
April 10, 2016 Art Opening
(exhibit runs April 10 to May 1)
Join us for a day of Art and Refreshments!
Beyond Words: Self-Discovery through Painting
Finding and Sharing Our Visual Voice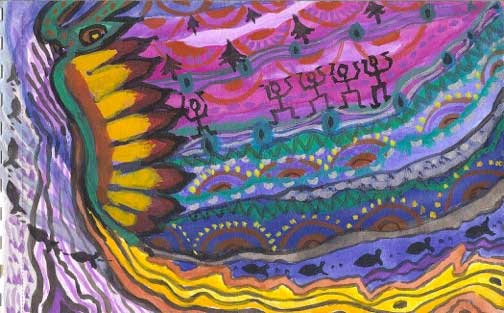 The members of our weekly painting journal group at SNUUC have shared personal discoveries and insights using brushstrokes and images in place of words. The painting journal process as developed by local author and artist, Barbara Diane Barry (Painting Your Way Of Out of a Corner: The Art of Getting Unstuck) relies on play and improvisation rather than on traditional painting techniques in order to nurture the imagination and rekindle lost spontaneity. Risk taking and increased flexibility slowly reveal how critical thinking often gets in the way of creative play and can block access to innovative problem solving. The journal pages created reflect the uniqueness of each individual. Incorporating this type of work into a regular painting journal practice can help to establish new neurological connections which eventually make it easier to get past mental and emotional blocks. As group members share their work, they help to nurture the creative spirit in all of those present.

South Ocean Gallery
South Nassau Unitarian Universalist Congregation
228 South Ocean Avenue Freeport. NY 11520

Exhibit runs April 10 to May 1
Gallery Open 10am to 1pm. Tuesday - Friday (best to call first)
Future Exhibition Opportunities:
The South Ocean Art Gallery is located in Freeport, at the South Nassau Unitarian Universalist Congregation, and operates as a not-for-profit entity. The goal of the gallery, administered by the Art Committee, is to raise awareness of the congregation as a community asset and promote local artists along with Long Island's cultural arts environment.
A new art exhibit is scheduled to open every other month at a Sunday coffee-hour reception open to everyone who is interested in art. The featured artist attends the reception and offers insight into his or her art. Exhibited art is offered for sale, with a small portion of the proceeds donated to SNUUC by the artist to promote future art-related events.
If you would like to be featured as an artist, please contact the Art Committee Chair, Ms. Diane Hawkins at parkviewdesign@verizon.net.
If you would like to see what the exhibit space looks like, please click here