South Ocean Gallery
October 16th Art Opening from 1 to 3 pm
at South Nassau Unitarian Universalist Congregation, Freeport
(exhibit runs October 16 to November 20)

Bart DeCeglie
Impressions of the Everyday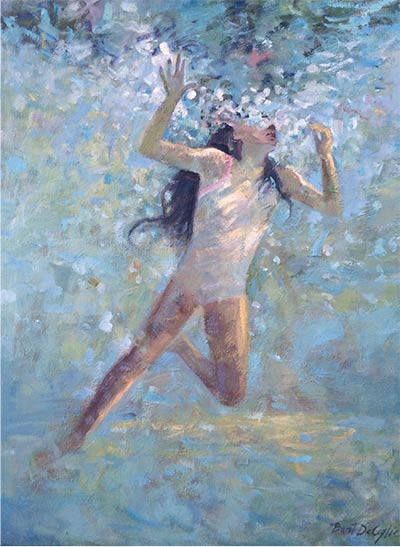 Jumping into the water and bubbles rising to the surface. Waiting for the subway. Walking through a garden. Bart DeCeglie's paintings show his love for impressionism. Living in New York, his paintings re ect the everyday lives of ordinary people who live here.
About the Artist: Bart DeCeglie was born in Italy and studied
there until he was 17 years old. He came to New York and after nishing high school he studied Illustration and Painting for 4 years at Phoenix School of Art and Design (now Pratt Manhattan). He has taught as an adjunct at colleges and art schools in and around New York City. His ne art has been shown in Florida, Michigan, Italy, Pennsylvania, Connecticut and as far east in New York as the Hamptons.
South Ocean Gallery
South Nassau Unitarian Universalist Congregation
228 South Ocean Avenue Freeport. NY 11520

Exhibit runs October 16to November 20
Gallery Open 10am to 1pm. Tuesday - Friday (best to call first)
Future Exhibition Opportunities:
The South Ocean Art Gallery is located in Freeport, at the South Nassau Unitarian Universalist Congregation, and operates as a not-for-profit entity. The goal of the gallery, administered by the Art Committee, is to raise awareness of the congregation as a community asset and promote local artists along with Long Island's cultural arts environment.
A new art exhibit is scheduled to open every other month at a time to be announced and is open to everyone who is interested in art. The featured artist attends the reception and offers insight into his or her art. Exhibited art is offered for sale, with a small portion of the proceeds donated to SNUUC by the artist to promote future art-related events.
If you would like to be featured as an artist, please contact the Art Committee Chair, Ms. Diane Hawkins at parkviewdesign@verizon.net.
If you would like to see what the exhibit space looks like, please click here