Art Opening April 19, 11:30am
New York artist and printmaker, R.W. Meric, brings Recent Works, a selection of her best work of the last several years. These works focus on familiar objects, landscapes and moments and reimagine them, encouraging the viewer to see them in new ways.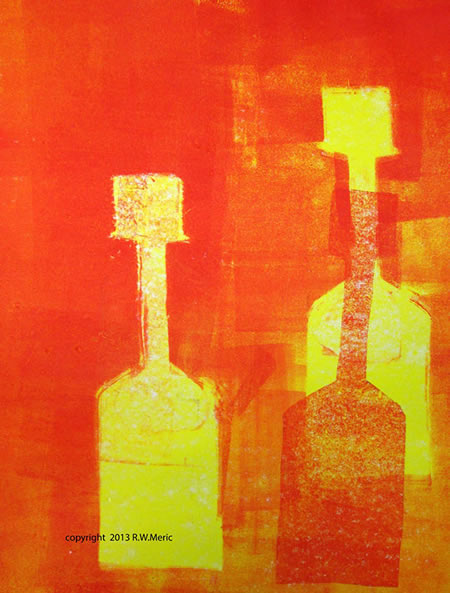 R.W. has been creating prints, especially mono prints*, for six years, having come from a background in painting and drawing. In addition to working as an artist, she has had a varied career as lawyer, teacher and storyteller. Ms. Meric has studied printmaking at the Robert Blackburn Printmaking Workshop, the Manhattan Graphics Center and the Lower East Side Print Shop. She has also exhibited her work in solo and group shows around New York.
To inquire further, please contact rwmworksonpaper@rcn.com. Prints are available for purchase.
*A monoprint is a one-of-a-kind print made by pressing paper onto a design created on a Plexiglas, metal, gelatin or styrene plate.
Future Exhibition Opportunities:
The South Ocean Art Gallery is located in Freeport, at the South Nassau Unitarian Universalist Congregation, and operates as a not-for-profit entity. The goal of the gallery, administered by the Art Committee, is to raise awareness of the congregation as a community asset and promote local artists along with Long Island's cultural arts environment.
A new art exhibit is scheduled to open every other month at a Sunday coffee-hour reception open to everyone who is interested in art. The featured artist attends the reception and offers insight into his or her art. Exhibited art is offered for sale, with a small portion of the proceeds donated to SNUUC by the artist to promote future art-related events.
If you would like to be featured as an artist, please contact the Art Committee Chair, Ms. Diane Hawkins at parkviewdesign@verizon.net.
If you would like to see what the exhibit space looks like, please click here