" Naturally, the common people don't want war ... but after all it is the leaders of a country who determine the policy, and it is always a simple matter to drag the people along, whether it is a democracy, or a fascist dictatorship, or a parliament, or a communist dictatorship. Voice or no voice, the people can always be brought to the bidding of the leaders. That is easy. All you have to do is to tell them they are being attacked, and denounce the pacifists for lack of patriotism and exposing the country to danger. It works the same in every country."
— Hermann Goering

"Every gun that is made, every warship that is launched, every rocket fired, signifies,
in the final sense, a theft from those who hunger and are not fed, those who are cold and not clothed.
The world in arms is not spending money alone. It is spending the sweat of its laborers,
the genius of its scientists, the hopes of its children…
This is not a way of life at all, in any true sense.
Under the cloud of threatening war, it is humanity hanging from a cross of iron."
— Former U.S. President General Dwight Eisenhower,
April 16, 1953
Social Justice Committee

The next Social Action Committee meeting is Tuesday, Nov. 14, at 6:30 pm in the foyer. Do you have a social action interest? Come join us and talk about it. We are always open to new ideas.
Help make our upcoming Midnight Run Breakfast Run the best ever! We can use socks, socks and more socks, gently used and new are best as well as a collection of travel-sized toothpaste, deodorant, soaps and shampoo.
Gently used gloves, t-shirts, sweatshirts and shoes are helpful to people who are sleeping on the street. Do you have a men's size sweatshirt you don't wear or a few t-shirts size large or bigger? Please bring them to the Brantley wing.
If you want to participate even more, cooking and preparation will be in the Brantley wing on Saturday, Nov. 18, starting at 2 pm and we will return to SNUUC at 6 am to heat up the yummy breakfast to take and distribute in Manhattan.
Can you donate a dozen eggs (or 2 dozen - we need 6 dozen) on Saturday, Nov. 18? Fresh bananas, oranges, muffins and granola are also needed.
Youth ages 13 and up accompanied by an adult (does not have to be a parent) are welcome to participate in going to NY City but must all must come on Saturday afternoon to help prepare.
Please see any of the Midnight Run planning team to get more information: Mary Brower, Marietta Cleckley. Ilene Corina, Bobby Granoff, JoJo Granoff, Sharon Kennelty-Cohen, Sharon Pataki, Heather Rudin and Kyle Schuessler.
Participants enjoyed the Death Cafe at SNUUC on Oct. 21, hosted by the Social Action Committee and led by co-facilitators the Rev.Linda Anderson and Lori Jones. Here are some of the comments from the participants about what it was like to talk about death together:
"The Death Cafe was a very positive experience for me and my ninety year old mom. Speaking freely about the subject alleviated many of my fears".
"Talking about death in a group setting is surprisingly comfortable and encourages meaningful self-reflection."
"I truly enjoyed the workshop and much more than I expected. It was very comforting talking about issues of death as there's usually no forum to do so. Thanks for a great and compassionate evening."
"The menu for the Death Cafe was very broad, introducing more that 20 options to discuss. It was an interesting way to get to know what some of our co-UUs think about in relation to death -- and life!"
"Talking about the topic that you don't want to talk about and can't talk to family about was a great relief."
"This was a great opportunity to share and find out what oth- ers are thinking and that my ideas are not that unusual."
If you are interested in learning more about the committee or if you would like to become involved, please feel free to contact Laurie Stuart minister@snuuc.org or Angelo Musto angelomusto@gmail.com.
Environment Committee
The newly invigorated Environment Committee is seeking members who are interested in actionable ways that we can help the environment and maintain the Web of Life for ourselves and future generations. If you are interested please contact Mary Brower 516-532-2554, Diane Hawkins or Sharon Kennelty-Cohen.
Recycling grocery bags: Most people are aware that plastic grocery bags can be recycled at local grocery stores, but did you know that the SNUUC Thrift Shop can also re-use good condition plastic and paper (Trader Joe's) bags? Give the grocery store the ripped and useless bags and bring the good ones to the Thrift Shop.
National Coming Out Day
is an internationally observed civil awareness day for coming out and discussion about gay, lesbian, bisexual, and transgender (LGBT) issues. It is observed by members of the LGBT communities and their supporters (often referred to as "allies") on October 11 every year.
Fifth Sunday Giving
On months with a fifth Sunday, the monies received during the offering can be designated for a chosen not for profit charity.
If you have a charity you would like to see receive these monies, please contact Mary Brower or Mirna Obers for an application. Ideally a representative for the charity should give a short speech prior to the collection explaining the charity. If you have any questions see Mary or Mirna, Fifth Sunday Giving Committee.
Have an idea for making SNUUC more green?
Want to help organize our congregation to obtain the Green Sanctuary rating for SNUUC? Thinking about helping an environmental group on Long Island? If you do, contact Diane Hawkins or come to monthly Environmental meeting on the last Sunday of the month (first part of Social Action meeting).
Please recycle your Order of Service and old papers around SNUUC. Look for the recycle bin in the foyer.
PULSE
now offers Patient Consulting Services, which is help in preparing patients for doctor's visits, surgery or hospitalization. A Patient Consultant will meet with you to help you prepare for these events including preparing medication lists, updating test results and medical documentation and doctors' and healthcare providers' contact information. Other available services include checking for expired medication, organizing a calendar for appointments, deciding healthcare proxy and family advocate and helping family members prepare to be a health advocate. While this pilot is being tested, this service will be free to the first 20 people who sign up. Receive a personal Medical Diary. See Ilene Corina for PULSE.
SNUUC Resolution on Immigrant Rights
Whereas we are called as people of faith to support the human rights and dignity of all persons
Whereas the United States was founded as a nation of immigrants whose strength, vitality, and possibility offer the world a powerful example of inclusive democracy
We, the members of the South Nassau Unitarian Universalist Congregation do hereby join other faith communities and affirm and attest our support of the New Sanctuary Movement, especially its call for an immediate moratorium on all federal raids and unjust deportations that separate parents from their children and create a climate of fear and repression. Although our congregation would not be able to physically host a family seeking sanctuary, we declare ourselves in solidarity with the needs and rights of our immigrant brothers and sisters, and offer them our support.
Passed: January 25, 2009
SNUUC receives Social Action award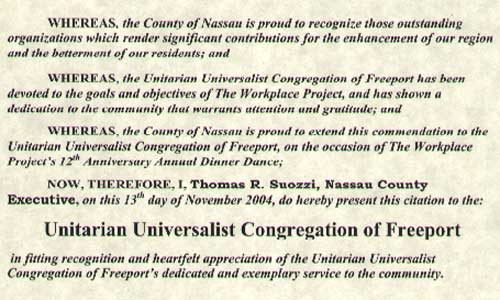 We're proud to announce that SNUUC received a citation from County Executive Thomas R. Suozzi at the Workplace Project's Annual Dinner Dance on November 13. The Citation was for "dedicated and exemplary service to the community". Social Action Committee co-chair Don Obers was there to receive the award.
This citation was based upon several events, fundraisers and letter writing campaigns that the members and Yuuth of the congregation initiated to support fair treatment for Freeport's day laborers. This month the Yuuth are once again collecting winter coats to distribute to the day laborers. Please bring any coat donations to the Yuuth room by this Sunday, December 5.
Preventable Medication Errors
Our government has found funding for education and research for breast cancer, prostate cancer, AIDS, heart disease, even bike helmet safety. The funding available seems endless and sometimes even questionable. Why isn't there funding available to educate patients and family about patient safety?

To learn more on this important topic and learn what you can do to help, click here.