I think this is the worst government the U.S. has ever had in its more than 200 years of history. It has engaged in extraordinarily irresponsible policies, not only in foreign and economic but also in social and environmental policy. This is not normal government policy. Now is the time for people to engage in civil disobedience."
— Economist and 2001 Nobel Laureate
George Akerlof

" Naturally, the common people don't want war ... but after all it is the leaders of a country who determine the policy, and it is always a simple matter to drag the people along, whether it is a democracy, or a fascist dictatorship, or a parliament, or a communist dictatorship. Voice or no voice, the people can always be brought to the bidding of the leaders. That is easy. All you have to do is to tell them they are being attacked, and denounce the pacifists for lack of patriotism and exposing the country to danger. It works the same in every country."
— Hermann Goering

"Every gun that is made, every warship that is launched, every rocket fired, signifies,
in the final sense, a theft from those who hunger and are not fed, those who are cold and not clothed.
The world in arms is not spending money alone. It is spending the sweat of its laborers,
the genius of its scientists, the hopes of its children…
This is not a way of life at all, in any true sense.
Under the cloud of threatening war, it is humanity hanging from a cross of iron."
— Former U.S. President General Dwight Eisenhower,
April 16, 1953
National Coming Out Day
is an internationally- observed civil awareness day for coming out and discussion about gay, lesbian, bisexual, and trans- gender (LGBT) issues. It is observed by members of the LGBT communities and their supporters (often referred to as "allies") on October 11 every year.
Fifth Sunday Giving
On months with a fifth Sunday, the monies received during the offering can be designated for a chosen not for profit charity.
If you have a charity you would like to see receive these monies, please contact Mary Brower or Mirna Obers for an application. Ideally a representative for the charity should give a short speech prior to the collection explaining the charity. If you have any questions see Mary or Mirna, Fifth Sunday Giving Committee.
Have an idea for making SNUUC more green?
Want to help organize our congregation to obtain the Green Sanctuary rating for SNUUC? Thinking about helping an environmental group on Long Island? If you do, contact Diane Hawkins or come to monthly Environmental meeting on the last Sunday of the month (first part of Social Action meeting).
Please recycle your Order of Service and old papers around SNUUC. Look for the recycle bin in the foyer.
PULSE
now offers Patient Consulting Services, which is help in preparing patients for doctor's visits, surgery or hospitalization. A Patient Consultant will meet with you to help you prepare for these events including preparing medication lists, updating test results and medical documentation and doctors' and healthcare providers' contact information. Other available services include checking for expired medication, organizing a calendar for appointments, deciding healthcare proxy and family advocate and helping family members prepare to be a health advocate. While this pilot is being tested, this service will be free to the first 20 people who sign up. Receive a personal Medical Diary. See Ilene Corina for PULSE.
Canvas Shopping Bags
available at the Social Action Table for $15. Please recycle your Order of Service and any other paper waste in the Recycling Bin in Foyer. If you are skilled at woodworking and can help us make two or three more bins, please contact Diane Hawkins.
SNUUC Resolution on Immigrant Rights
Whereas we are called as people of faith to support the human rights and dignity of all persons
Whereas the United States was founded as a nation of immigrants whose strength, vitality, and possibility offer the world a powerful example of inclusive democracy
We, the members of the South Nassau Unitarian Universalist Congregation do hereby join other faith communities and affirm and attest our support of the New Sanctuary Movement, especially its call for an immediate moratorium on all federal raids and unjust deportations that separate parents from their children and create a climate of fear and repression. Although our congregation would not be able to physically host a family seeking sanctuary, we declare ourselves in solidarity with the needs and rights of our immigrant brothers and sisters, and offer them our support.
Passed: January 25, 2009
Keep Student Data Safe
Included in the No Child Left Behind Act is a little-known provision that requires high schools to give student contact information to military recruiters. Schools that refuse to do so face losing their federal aid. For parents who don't want their teenagers pursued by recruiters there is an "opt-out" form. You can take your son or daughter off the list by going to LeaveMyChildAlone.org. Presently under consideration in Congress is the Student Privacy Protection Act, which would require recruiters to get parents' explicit consent before they can call or visit their teenagers. Urge your Representative in the House to support this Act. Rep. Peter King (516) 541-4225 or Pete.King@mail.house.gov or Rep. Carolyn McCarthy (516) 739-3008 or www.house.gov/carolynmccarthy Or, if you want to go to a higher authority: president@whitehouse.gov
Finally, you may want to sit down together with your teenager, after getting all available information on the subject, and talk about it. Today's youth are knowledgeable about what's going on in the world and will, when given the chance, listen to all sides of the question.
[Source: Working Assets of May/June 2005; The Nation of 9/12/05; and The New York Times of 10/7/05]
SNUUC receives Social Action award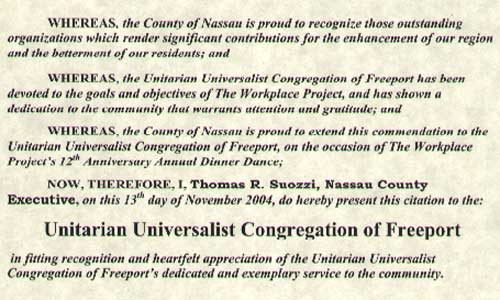 We're proud to announce that SNUUC received a citation from County Executive Thomas R. Suozzi at the Workplace Project's Annual Dinner Dance on November 13. The Citation was for "dedicated and exemplary service to the community". Social Action Committee co-chair Don Obers was there to receive the award.
This citation was based upon several events, fundraisers and letter writing campaigns that the members and Yuuth of the congregation initiated to support fair treatment for Freeport's day laborers. This month the Yuuth are once again collecting winter coats to distribute to the day laborers. Please bring any coat donations to the Yuuth room by this Sunday, December 5.
Preventable Medication Errors
Our government has found funding for education and research for breast cancer, prostate cancer, AIDS, heart disease, even bike helmet safety. The funding available seems endless and sometimes even questionable. Why isn't there funding available to educate patients and family about patient safety?

To learn more on this important topic and learn what you can do to help, click here.
To learn more about the work of PULSE
a nonprofit, 501(c)(3) support group and organization dedicated to raising awareness about patient safety and reducing medical errors through advocacy, education, and support, click here for the national website, or here for the local NY chapter.